Register now!
Fort Privacy is delighted to welcome you to our upcoming GDPR event in the Kings Inn's, Dublin.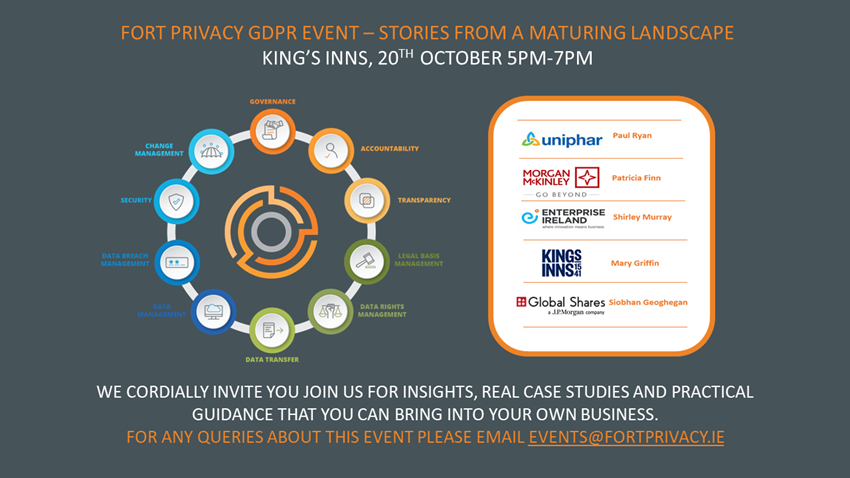 When: Thursday October 20th, 5pm-7pm
Where: King's Inns, Henrietta Street, Dublin 1
This informative event which will take place from 5pm-7pm in King's Inns on Thursday 20th October 2022 will provide you with insights, real case studies, practical advice, and guidance for your company's protection.

With speakers from Kings Inn's, Global Shares, Enterprise Ireland, Morgan McKinley & Uniphar, this event is a must-attend for anyone working in the privacy space and is a chance to learn first-hand from your peers on how they are addressing those same challenges.

As we explore "Stories from a Maturing Landscape" we look at how things have evolved since May 25th, 2018, as well as looking to the future of Data Protection.

Speakers on the day include:
Marie Murphy/Tricia Higgins, Co-Founders, Fort Privacy
Mary Griffin, King's Inns
Paul Ryan, Uniphar
Siobhan Geoghegan, Global Shares
Patricia Finn, Morgan McKinley
Shirley Murray, Enterprise Ireland
Join Our Newsletter
Sign-up to receive news and information from Fort Privacy
Fort Privacy processes your personal data in order to respond to your query and provide you with information about our products and services. Please see our Data Protection Statement for further information